There is a plethora of beaches that you can choose if you are in Rhodes Island to just lay down in the sun and just sunbathe. The island has about 40 miles of coastline which offers something for everybody whether you want to try out watersports, or you just want the beach to yourself alone. You will also be mesmerized with its beach which features gravel and sand mixed beaches while some other beaches are filled with powdery sands and turquoise water. Some of the best beaches to visit are listed below.
Tsambika Beach
This is a secluded beach with the surrounding area still undeveloped but many tourists are discovering this stunning gem. The beach features a wild area with shallow water and fine golden sand which makes it the perfect place to go for families. The water temperature is quite warmer on this beach than on other beaches. There are lots of watersports like paddle boats and jet skis that you can try here if you are looking for adventure. You can also explore the old monastery that is close by where you will get mind-blowing views of the beach and the ocean. You can also visit the restaurant and a small store that are close-by when you are hungry.
Faliraki beach
This is the longest sandy beach on the island and it is a popular tourist hotspot as it can be quite crowded on the beach. You can also escape from the crowd just by walking down to the quieter and the relaxed area of the beach. The beach is also family friendly as it is filled with numerous fun activities like watersports every day. You can also try out some mouth-watering cuisines at the Tavernas and restaurants that can be found here.
Lindos Beach
This is among the best beaches on Rhodes island and it is a real paradise beach which features white powdery sand filled and clear water that is mixed with green color. The beach is also family-friendly with lots of kid-friendly activities to try out. There are restaurants around the beach where you can buy foods and drinks.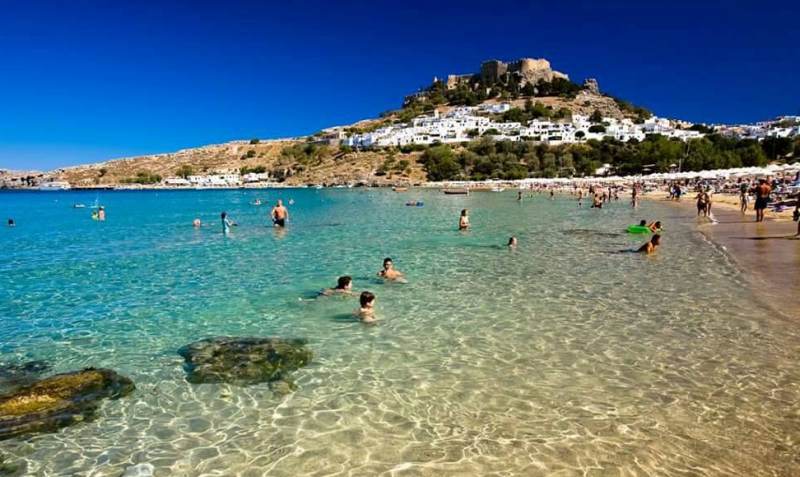 Kallithea Beach
This beach features a calm and crystal clear waters and it is a family-friendly beach. The beach is just outside of Rhodes town and this is the best spot for you if you want to try out diving as you will find the best diving Centre on Rhodes island here.
Kalathos Beach
This is a mesmerizing golden sand beach located on the south-east coast of Rhodes which is just 50km from the capital. You will love as the beach is very clean with crystal clear water. You can also hire sunbeds and umbrellas that are for hire and you can also visit the beach bar to drown some liquors. This is among the popular beaches in Rhodes that you should visit while in Rhodes.
Elli Beach

This is a well-known beach in Rhode islands and it can be found east of the Cape close to Mandraki harbor. This beach is always busy with plenty of sunbeds if you want to sunbathe. The beach is windless and it is home to a mixture of gravel and sand. This beach is filled with many fun things to do as you can with a casino, pool area, and restaurants located on this beach.
Psaronisi
This can be found at the southern part of Rhodes island and it is the perfect place for you if you are a windsurfer this is the best place to go. If you are not ready for adventure, you can also just lie down and sunbathe while you watch the surfers do their thing in the water.