The Acropolis of Lindos is the most interesting and exciting archaeological site in Rhodes islands and it attracts over thousands of tourist each year. This iconic landmark is very difficult to access with only the stairs on the north side can get to the bottom of the ramparts of the castle which was built by the Knights.
The Acropolis
The Acropolis is surrounded by a wall of Hellenistic staircase which leads to the entrance of the site with the buildings made with vertical and horizontal joints. There is a wall which is used to protect the Acropolis and it was built after the Persian war. You will get to see buildings of the palace chapel upstairs of the Acropolis. You will then get to see the Propylaea and a small sanctuary of Athena Lindia. Some of the iconic landmarks and attractions that you will see in the Acropolis are the exedra, temple of Athena, temple of Kleobule, and the temple of Diocletian.
There are many other archaeological sites in Lindos that is close to the Acropolis that you can also explore. Some of them are listed below.
Visit the theater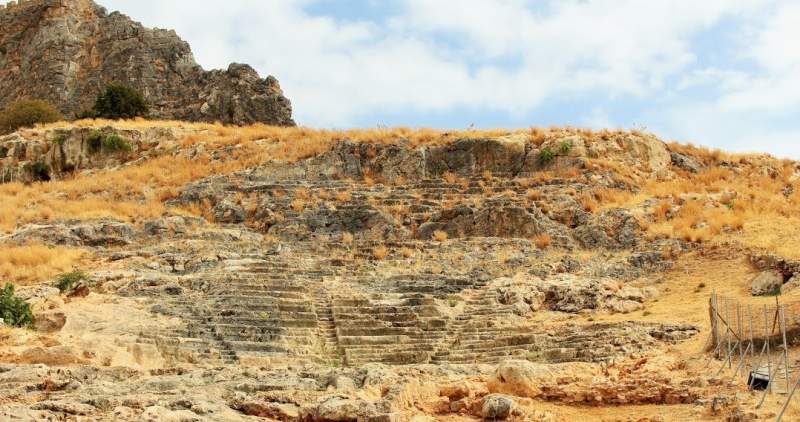 This is located at the southwest side of the hill just below the temple of Athena. The temple features a circular orchestra with an auditorium which is hollowed out of the side of the hill. You will get to see the honorary seats which are around the orchestra and it is mainly for the officials. The theater has the capacity to hold 1,800 spectators.
Explore the four-portico building
The remains of this four building can be found close to the Theater and while you are inside the columns you will get to see four sides of the building which is surrounded by an open-air courtyard. The main purpose of the building is to hold up to 1700 spectators during religious ceremonies and it was later occupied successively by three Christian churches.
Go sightseeing at Boukopion
This can be found northeast of the Acropolis and it is known as the place of sacrifices. You will get to see 38 inscriptions on the rocks around to identify the place. You will also see a naiskos that was built with a small field of stones with a temple, pronaos and some kind of vestibule which contains the votive offerings. This is the best place to go if you want to learn about how sacrifices are made in the ancient days.
There are also many cemeteries of ancient Lindos which spread around the surrounding district that you can also visit like the Tomb of Kleoboulos and the Archokrateion. You can also visit the Naiskos of the Taxiarch Michael Stratelates which is below the village square and you will be mesmerized with the post-Byzantine representation of the Archangel Michael Psychopompos. There is also the Muslim cemetery, a church of the Panayia, Ayios Georgios Chostos, Ayios Georgios Pachymachiotos, and many more that you can explore in Lindos that you can visit.